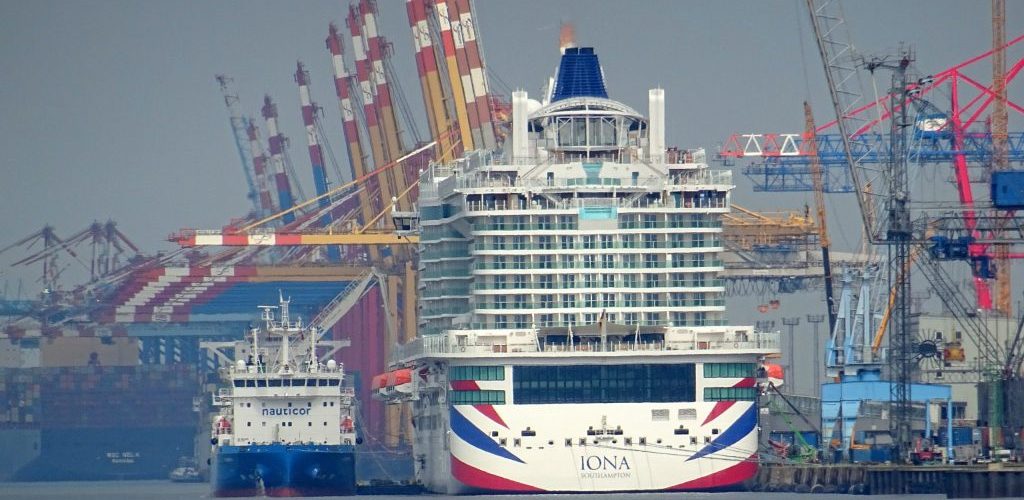 Perfect execution – first ship-to-ship LNG bunkering at CCCB a complete success!
On June 18, 2020 there was a premiere at Columbus Cruise Center Bremerhaven. The tank vessel "Kairo" belonging to the Hamburg-based company Nauticor, conducted the first ship-to-ship LNG bunkering in a Bremen port. The bunker vessel had transported the liquid gas to the Columbus Quay from Bremerhaven's twin-town Pori in Finland. The total volume was about 1,300 cubic metres of liquefied natural gas. For fifteen hours it was pumped from the Kairo to MS Iona using a cryogenic hose capable of withstanding temperatures as low as minus 160 degrees Celsius.
The cruise vessel MS Iona was built by the Meyer yard in Papenburg and is currently undergoing its final outfitting at Columbus Cruise Center Bremerhaven. It is one of the first cruise vessels worldwide to be equipped with LNG engines. During the bunkering operation at CCCB, the LNG-tanks on board the MS Iona were filled for the first time, allowing the LNG propelling system to commence.
LNG stands for Liquefied Natural Gas, a deeply refrigerated natural gas in liquid form. Liquefied gas is considered particularly eco-friendly. Compared with conventional maritime fuels, it can lead to a variety of significant reductions in emissions.